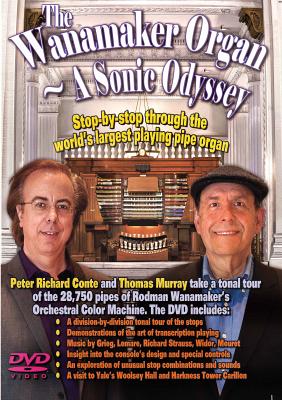 Fine Arts

$26.95





Ever wonder what it is like to actually play the Wanamaker Organ? Where do you begin? What do all the stops sound like and how do you combine them? Peter Richard Conte and Thomas Murray take a tonal tour of the 28,750 pipes of Rodman Wanamaker's gigantic Orchestral Color Machine.

In this companion piece to our Curator's Tour DVD (sold separately) share musical insights from two of today's top symphonic organists! The comprehensive, three-hour DVD, filmed in the hushed Grand Court after Store hours, includes...

HIGHLIGHTS
[] A division-by-division tonal tour of the stops
[] Demonstrations of the art of transcription playing
[] Themes by Grieg, Lemare, Schumann, Widor, Mouret, Tchaikovsky, Bach
[] Insight into the Console's design and special controls
[] An exploration of unusual stop combinations and sounds
[] A tour through all the Percussions
[] A visit to Yale's Woolsey Hall and Harkness Tower Carillon
[] A tour of the Rodman Wanamaker Flag Collection
[] Examples of of how stops sound inside and outside the chamber
[] Explorations of the Crescendo Pedal and its Division Cut Outs
[] Demonstrations of the fascinating technique of Thumbing extra melodies
[] Tutorials on the Organ's coupling system and unusual controls.
[] A ride in Professor Murray's vintage Rolls-Royce
[] Scenes of a demonstration of the mighty Woolsey Hall organ at Yale

MUSIC
[] Moonlight Music from the Opera Capriccio (Richard Strauss)
[] Imperial March (Edward Elgar)
[] Scherzo from Sonata VIII (Guilmant)

The companion booklet includes a detailed essay on how to play the Wanamaker Organ, with insights from Peter Richard Conte, Keith Chapman, John Binsfeld, Virgil Fox and others, and a division-by-division overview of the Wanamaker Organ's evolution and tonal resources.